Our Story
Family-owned and -operated since 1964, TFE provides high-quality Fluid Power and Power Transmission products to northeast and central Indiana, northwest Ohio and southern Michigan. TFE is a growing company with emphasis on quality products and service for the OEM customer and the end user.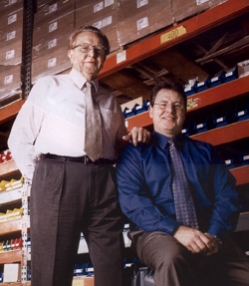 TFE provides online ordering, bar coding and kits in addition to Just-in-Time (Kanban) ordering for customers. TFE also provides on-site plumbing of hydraulic systems with hose, tubing and hydraulic adapters. These services complement our full line of Power Transmission products from manufacturers like Baldor/Dodge, Rexnord, Martin Sprocket & Gear, The Gates Rubber Company, Renold Jeffrey and Nord.
TFE currently owns about 60,000 square feet of warehouse, office and production area. We are the largest independent Gates Rubber Company Distributor in Indiana with "HAF" and "Certified Hydraulic Assembly Fabricator" status. We are also the largest Eaton Synflex Thermoplastic Hose Distributor in the country with "Certified Synflex Assembler" status. As an Owner-Distributor of AD "Affiliated Distributors," North America's largest marketing/buying group for construction and industrial supplies, TFE has access to the products you need when you need them.
We are a two-time "Distributor of the Year" winner for the great lakes region for Dodge and also the only Dodge "Market Maker" for Indiana. TFE is a member of both NAHAD (National Association for Hose and Accessories Distribution) and PTDA (Power Transmission Distributors Association).
Our Simple Promise
TFE caters to our customers' needs. Services include a knowledgeable and experienced sales team, extended hours and 24-hour emergency service. Our technology, including online ordering, allows complete connectivity and seamless interaction between our customer base and manufacturers. Counter services at all three locations assist those who are looking for same-day turnaround, pick-ups and assemblies. TFE serves its customers from two locations in Fort Wayne, Indiana, and one in Indianapolis, Indiana.
Whether you are a long-standing customer or are considering doing business with us for the first time, our promise is simple: we will strive in every way to deliver quality products and services at a competitive price, while building a lasting partnership with you based on honesty and integrity.